"Connections"
Or if you prefer – tendrils, electrical discharges, plasma fields, firing synapses; what do you see? Some suggestions were bubble gum, Easter eggs, neurons, jellyfish & a Chambered Nautilus using illegal substances (lol!).
An Open Edition giclee art print.
The nominal size on the unframed print is 24″ x 24″ but it's available from 8″ x 8″ up to 44″ x 44″. The nominal finished framed size is 34.5″ x 34.5″.
The selected art paper is a Premium Luster Photo Paper that produces vivid, lifelike images with highly saturated prints. Its 10-mil base keeps the paper wrinkle-free.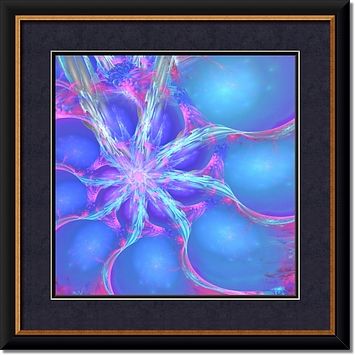 The 2″ wide frame, "Metropolitan Black with God" – is a contemporary frame with a raised 1/2 gold inner edge and a subtle red accent line on the outer edge.
The top mat is "Midnight", a deep blue mat with a rich sueded surface (#1601). The second mat, "Blackcore Ivory Black", is a deep black mat with a black bevel and a lightly textured surface.
The glazing is a protective acrylic, which is designed to block harmful UV rays.

 

Again, these selections are easily changed.
---
Kinnally's full online art gallery can be viewed
HERE
. (A small assortment of artwork thumbnails can be viewed at the
Pixleated Palette
.) A wide selection of other artists and artwork can be viewed
HERE
.