"Sirocco" –
   Hot
      Dry
         Dusty
            Oppressive
               Burning
                  Wind…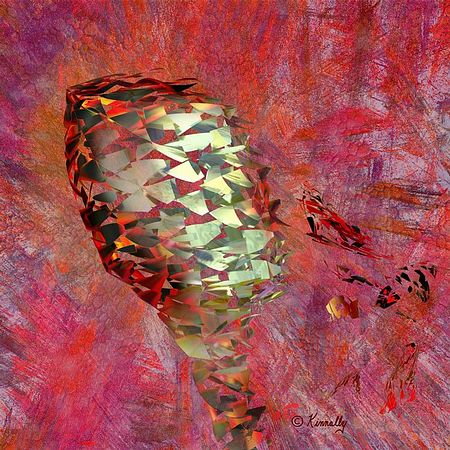 See it larger Here. Then click on "Buying Options" (you don't have to actually purchase to view the frame selections), and you can change the size, art paper or canvas, frame and mat to suit your particular taste, or purchase a print and have your local framer frame it to your taste.
The object in the center of this dynamic artwork, with its burned and crisped left edges, paper-like appearance, and with little burnt pieces blowing away off to the right, conveys to the artist an image of an exceptionally hot wind – hence the name 'Sirocco'. The heated interior and the orange glow around the object add to that sense of heat.
Wikipedia defines 'Sirocco' as:
"Sirocco, scirocco, jugo or, rarely, siroc is a Mediterranean wind that comes from the Sahara and reaches hurricane speeds in North Africa and Southern Europe. It is known in North Africa by the arabic word qibli ( i.e. "coming from the qibla".)
The default double matted 2″  smooth frame, "Metropolitan Black with Gold", has a raised 1/2 gold inner edge and a subtle red accent line on the outer edge.
The selected art paper is Epson's Premium Luster Photo Paper which produces vivid images and highly saturated prints. The outter black core mat is a deep black mat with a black bevel and a lightly textured surface. The inner mat, "Miro", is a deep bright red with a hint of orange and a smooth surface. The glazing is a UV protection acrylic, which minimizes fading by harmful UV rays.
Please also visit my Online Gallery to see my other available giclees.
This, and other fine art prints by other artists are available by clicking through to the main site. They only offer the finest giclee print services, with a terrific satisfaction guarantee.
Art by Kinnally