I have made the decision to reduce the prices on most of my Limited Run fine art giclees, at least for the time being. This will preclude their sale in art galleries but offer a better financial option to my online customers. I will still offer both Limited and Open editions and there will be a price difference between the two for obvious reasons. Almost all artwork is open edition.
One out of every ten of my Limited Run art prints will still win a free print of their choice for the purchaser, even if they've only purchased one print! (Edit – this offer for free art has ended.)
"Shellfish Dream" – only 100 giclees available. Available in six sizes from 10″ x 7.5″ up to 58.7″ x 44″ and on eight types of art paper and two types of canvas. I've chosen default art paper and framing options to make things easier for a buyer, but those choices are readily changed or you may purchase the giclee print and have your local framer frame it for you.
I've dedicated this art to my sister, she loves shells!
The default framing size as shown is 41.8″ x 33.8″ overall (32″ x 24″ giclee print). The Satin Finish Premium Luster Photo Paper delivers highly saturated prints by offering maximum ink coverage and a high D-Max for true photographic reproductions. Its 10-mil base gives prints a photographic feel, and keeps the paper cockle-free.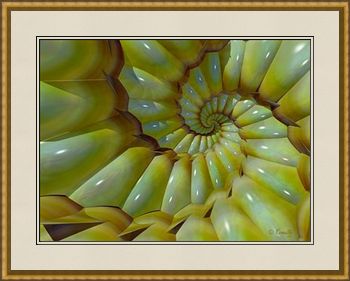 The glazing is a UV protection acrylic which offers additional protection from harmful UV rays. 
The "W2 Zen Copper" frame (not copper – a reference to the color only), 1 3/8 in. – 1.38″, has a contemporary tall angled profile with a hammered, warm gold finish on top and a warm gold satin outer edge.

The "Blackcore Seamist" mat is a soft gray beige with a black bevel and a lightly textured surface.

Please visit my Online Gallery to see my other available giclee art prints. This, and other fine art prints by many other artists can be viewed by clicking through to the main site. My supplier only offers the finest giclee print services, with a terrific satisfaction guarantee!
Art by Kinnally
**********