"In the Church of the Holy Cross"
A statue inside of the Chapel of the Holy Cross, Sedona, Arizona; built by a Frank Lloyd Wright disciple in 1956.
This photo was taken by me during one of my father's visits to Arizona. I wish I knew the story behind the statue and what the person depicted in the statue was holding at one time. It almost looks like he had a musical instrument. Look at the graceful position of the fingers on his left hand. Since he's standing on rocks and thus outside, I suspect that he's not playing an instrument but rather doing something else. Is he possibly a shepard, or is 'he' really a 'she'?
It has been suggested that this is Joan of Arc, originally holding a sword and staff, which is very possibly correct.
Design Art by Kinnally (An Open Edition giclee art print.)
In the Church of the Holy Cross: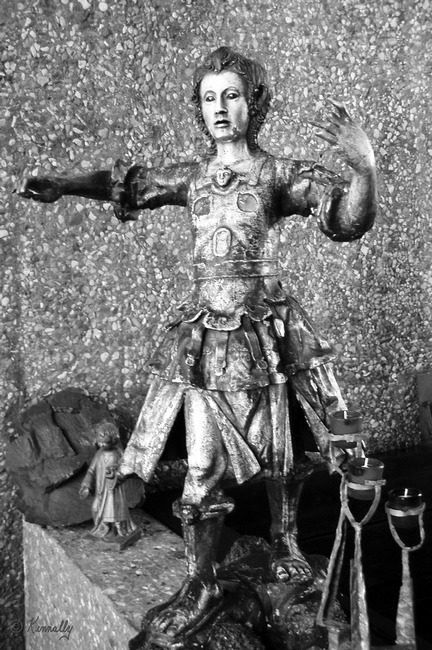 The nominal size on the unframed print is 16″ x 24″ but it's available from 6.7″ x 10″ up to 32″ x 48″. The nominal finished framed size is 25.5″ x 33.5″.
The selected art paper is a Premium Luster Photo Paper that produces vivid, lifelike images with highly saturated prints. Its 10-mil base keeps the paper wrinkle-free.
The 2″ wide frame, "Distressed Black with Gold Bead" – is a traditional black frame with a beautiful gold beaded inner edge. The distressed outer panel angles down to meet the interior accent band. A scoop relieves the exterior side panel and adds a touch of sophistication.
The top mat is "Blackcore Seamist" (#1903), a soft gray beige mat with a black bevel and a lightly textured surface.  The second mat, "Blackcore Ivory Black" (#1901), is a deep black mat with a black bevel and a lightly textured surface.
The glazing is a protective acrylic, which is designed to block harmful UV rays.

 


Again, these selections are easily changed.
---
Kinnally's full online art gallery can be viewed
HERE
. (A small assortment of artwork thumbnails can be viewed at the
Pixleated Palette
.) A wide selection of other artists and artwork can be viewed
HERE
.